Over the last few weeks, I redesigned the default Plasma Calendar bringing it more in line with the design we want for Breeze Evolution. The new design removes the lines between the days, uses the default Plasma highlighting element and uses the Plasma Header component to provide a consistent look for the headers.
There were also improvements in term of usability. Most notably, it is now easier to switch between the month, year and decade overview. Before, you needed to discover that the month name was clickable but now just clicking on the day, month or year button works. Additionally, on a touch screen, you can also swipe the calendar left or right.
These improvements will be available with Plasma 5.22, but some will land a bit earlier with KDE Framework 5.82.
What is coming next?
The next step in improving the calendar support in Plasma is improving the event representation in the month view. I already have a merge request ready for that, replacing the triangle with colored dots. Don't worry if you have a very busy shedules, it won't display more than five at the same time.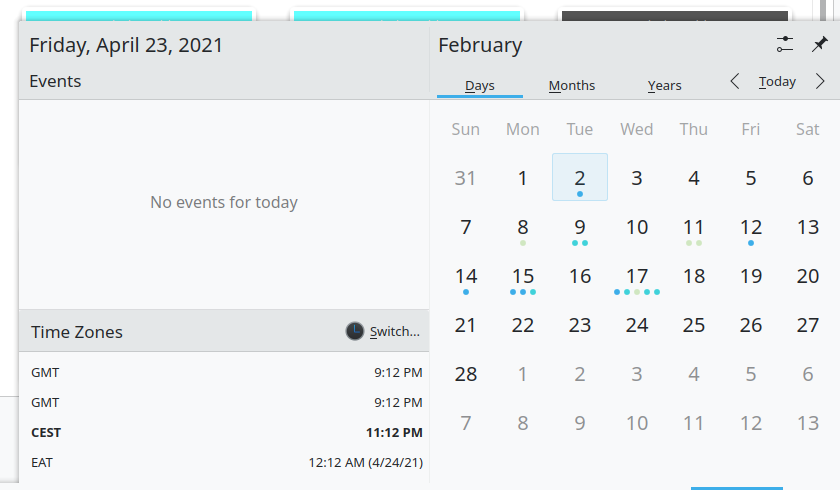 You can take a look at it in frameworks/plasma-framework!243.
Before the Plasma 5.22 feature freeze, I want to land a few more features.
Add a button to add events (by opening Korganizer in case it is installed)

Enable the event display by default when Korganizer and kdepim-addons are installed. This would improve the visibility of the features and make the calendar applet much more useful.
Update
Since some people asked me about how it looks with a dark theme.
Also the MR for opening Korganizer is ready!