Matrix is an instant messaging system similar to Whatsapp or Telegram, but uses an open and decentralized network for secure and privacy-protected communications. NeoChat is a visually attractive Matrix client that works on desktop computers and mobile phones.
Convergence
NeoChat provides an elegant and convergent user interface, allowing it to adapt to any screen size automatically and gracefully.
This means you can use it both on desktop computers, where you might want to have a small bar on the side of your screen, but you can also enjoy NeoChat on Plasma Mobile and Android phones.
In fact, NeoChat will be installed by default on the PinePhone KDE edition and we offer a nightly Android version too. The Android version is for the moment experimental and some features, like file uploading, don't work yet.
Features
NeoChat provides a timeline with support for simple messages and also allows you to upload images and video and audio files. You can reply to messages and add reactions.
NeoChat provides all the basic features chat application needs: apart from sending and responding to messages, you can invite users to a room, start private chats, create new rooms and explore public rooms.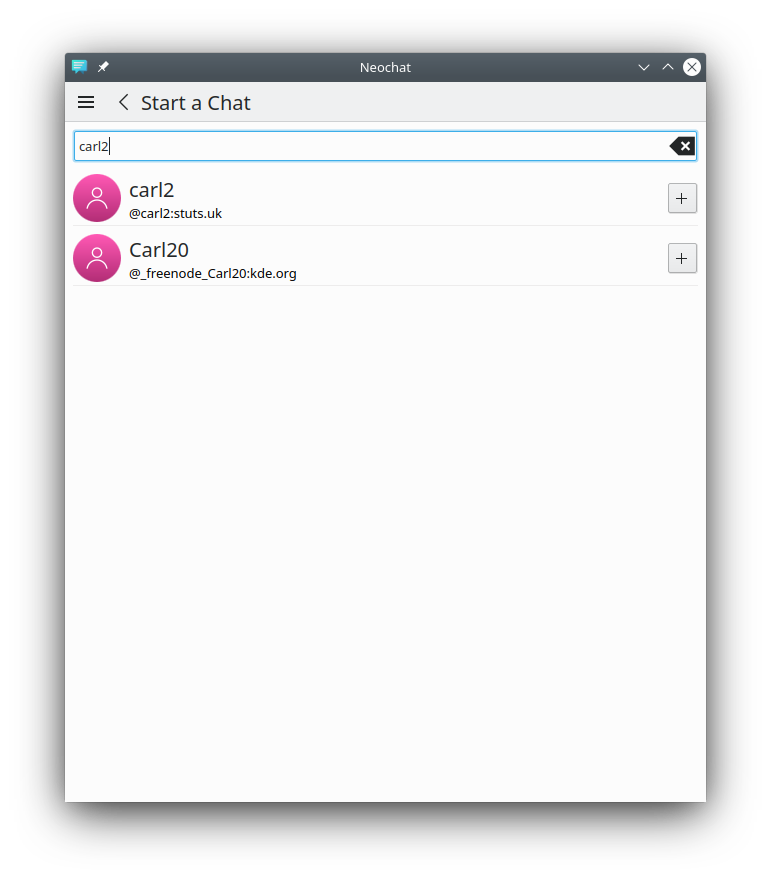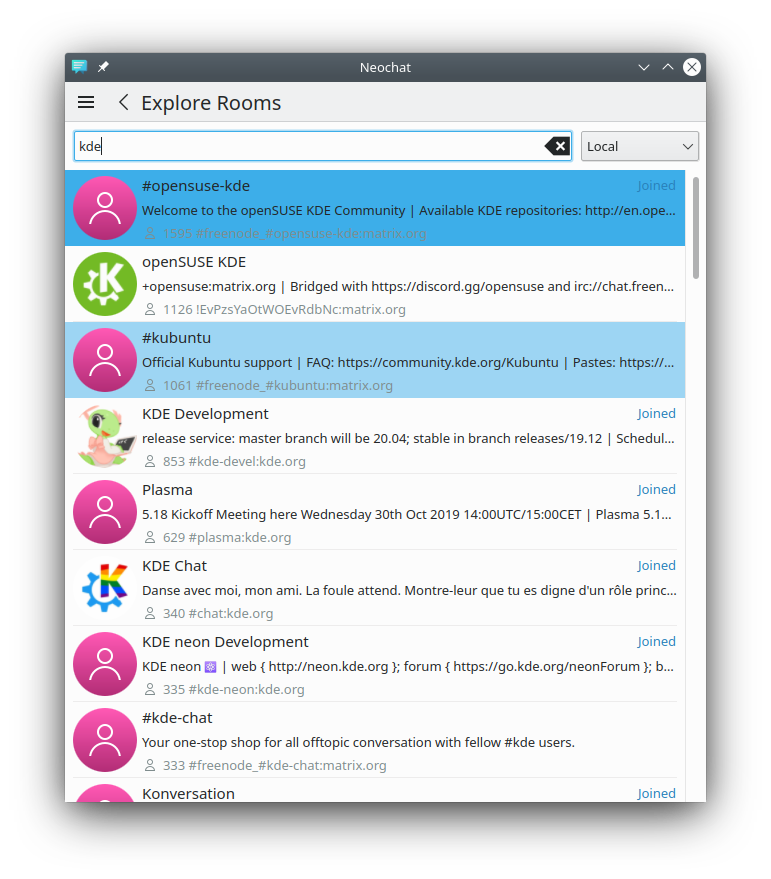 Some room management features are also available: You can ban or kick users, upload a room avatar and edit a room's metadata.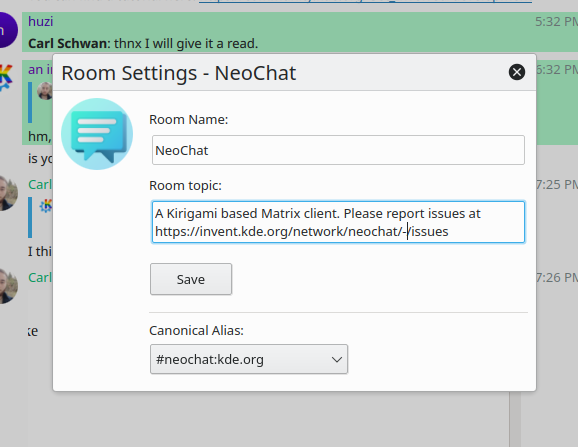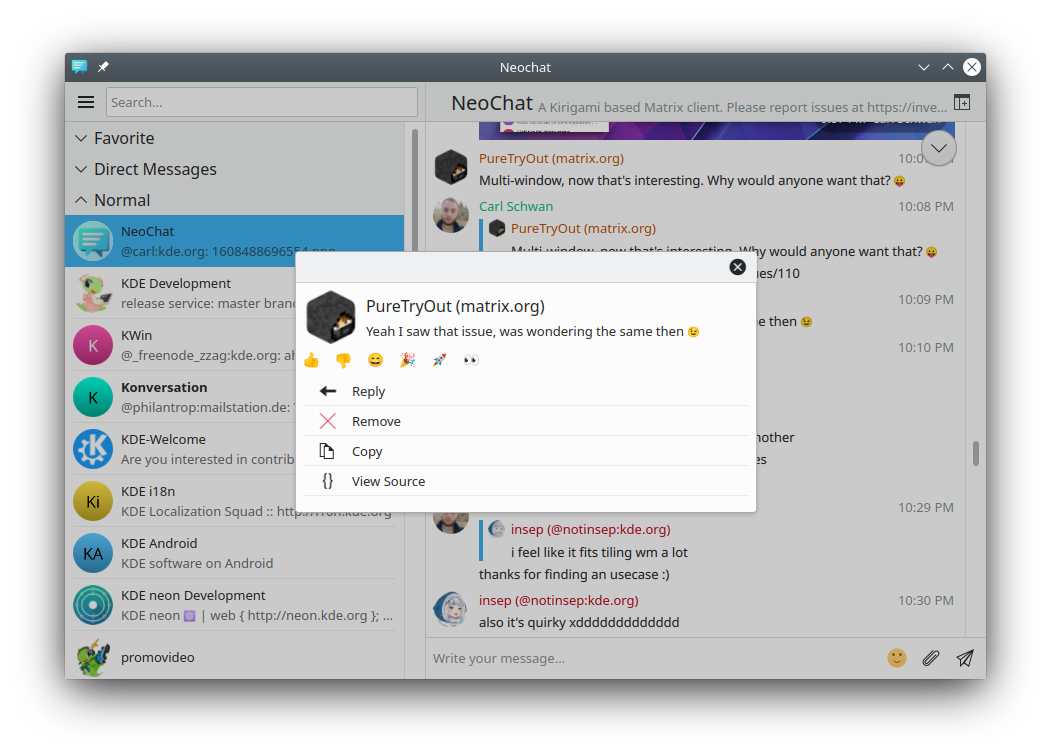 The room view contains a sidebar that is automatically displayed on wide screens, but also appears as a drawer on smaller screens. This sidebar contains all the information about the room.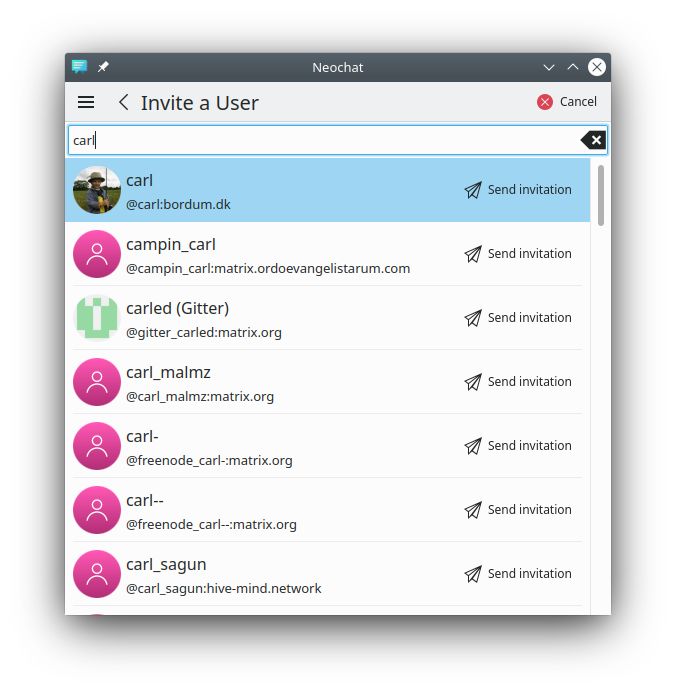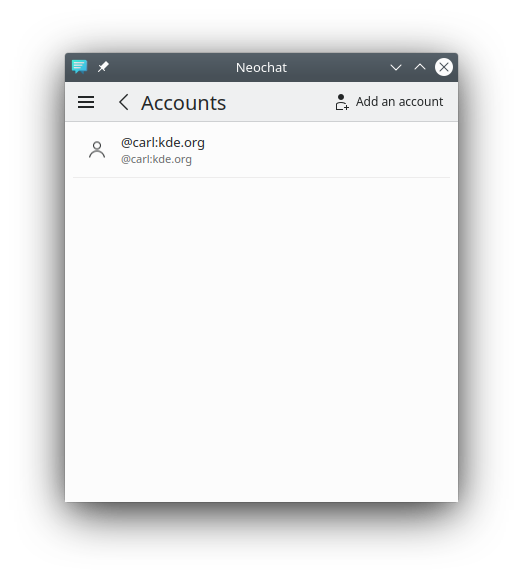 A lot of care has been put into making NeoChat intuitive to use. For example, copying with Ctrl+C and dragging and dropping images just work; and the text field gets autofocused so that you are never writing into the void. NeoChat also integrates an emoji picker, letting you use the greatest invention of the 21st century. (Note: someone in Mastodon pointed out that Emojis are from the 20th century and appeared in 1997 in Japan.)
Image Editor
NeoChat also includes a basic image editor that lets you crop and rotate images before sending them. The image editor is provided by a small library called KQuickImageEditor.
This library for the moment doesn't have a stable API and is released together with NeoChat.
Why Matrix and NeoChat
Matrix is an open network for secure and decentralized communication. This is an initiative that is very much aligned with KDE's goals of creating an open operating system for everybody. This is why we need a Matrix client that integrates into Plasma and thus NeoChat was born.
NeoChat is a fork of Spectral, another QML client, and uses the libQuotient library to interact with the Matrix protocol. We would like to send out a huge thank you to these two projects and their contributors. Without them, NeoChat wouldn't have been possible.
NeoChat uses the Kirigami framework and QML to provide an elegant and convergent user interface.
Translations
NeoChat is fully translated in English, Ukrainian, Swedish, Spanish, Portuguese, Hungarian, French, Dutch, Catalan (Valencian), Catalan, British English, Italian, Norwegian Nynorsk and Slovenian. Thanks a lot to all the translators and if NeoChat is not available in your native language consider joining KDE localization team.
What is Missing
For the moment, encryption support is missing and NeoChat doesn't support video calls and editing messages yet either. Both things are in the works.
We are also missing some integration with the rest of the KDE applications,
like with Purpose, which will allow NeoChat to be used to share content from other KDE applications; and with Sonnet, which will provide spellchecking features.
The fastest way to implement these deficiencies is to get involved! The NeoChat team is a friendly group of developers and Matrix enthusiasts. Join us and help us make NeoChat a great Matrix client! You can join us at #neochat:kde.org. We also participate to Season of KDE, so if you want to get mentored on a project and at the end get a cool KDE T-Shirt, feel free to say hi.
Tarballs
Version 1.0 of NeoChat is availabe here, kquickimageeditor 0.1.2 is availabe here. Both packages are signed with my gpg key 14B0ED91B5783415D0AA1E0A06B35D38387B67BE.
A Flathub release will hopefully be released in the next few days. We will update this post when it is available.
The Flathub version is available.